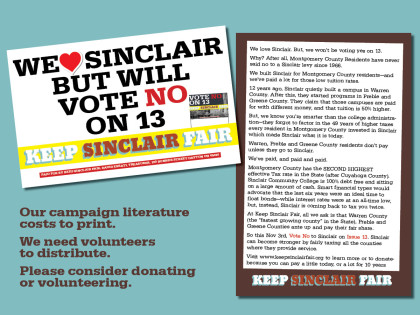 We love Sinclair. But, we won't be voting yes on 13.
Why? After all, Montgomery County Residents have never said no to a Sinclair levy since 1966.
We built Sinclair for Montgomery County residents—and we've paid a lot for those low tuition rates.
12 years ago, Sinclair quietly built a campus in Warren County. After this, they started programs in Preble and Greene County. They claim that those campuses are paid for with different money, and that tuition is 50% higher.
But, we know you're smarter than the college administration—they forgot to factor in the 49 years of higher taxes every resident in Montgomery County invested in Sinclair which made Sinclair what it is today.
Warren, Preble and Greene County residents don't pay unless they go to Sinclair.
We've paid, and paid and paid.
Montgomery County has the SECOND HIGHEST effective Tax rate in the State (after Cuyahoga County). Sinclair Community College is 100% debt free and sitting on a large amount of cash. Smart financial types would advocate that the last six years were an ideal time to float bonds—while interest rates were at an all-time low, but, instead, Sinclair is coming back to tax you twice.
At Keep Sinclair Fair, all we ask is that Warren County (the "fastest growing county" in the State), Preble and Greene Counties ante up and pay their fair share.
So this Nov 3rd, Vote No to Sinclair on Issue 13. Sinclair can become stronger by fairly taxing all the counties where they provide service.