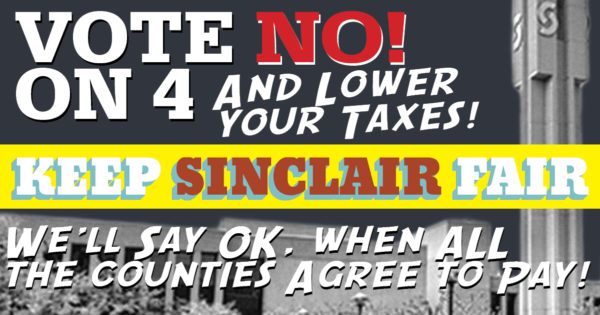 After 52 years of paying for Sinclair levies without public organized opposition, the Keep Sinclair Fair movement finally gets a mention in the Dayton Daily News:
But, a local group led by David Esrati said Montgomery County tax dollars are being used elsewhere.
In response to Issue 4, Esrati started an political action committee called "Reconstructing Dayton" and a website called Keep Sinclair Fair. The website encourages residents to vote against the renewal this fall."I'm sure they're spending Montgomery County tax dollars in other counties. You can't have a branch campus in Warren County and have all the support … all the things that go along with it," Esrati said. "That is not covered for $47 extra a credit hour.
"It's not fair, said Esrati, that Sinclair has locations in neighboring counties but that residents of those counties are not taxed.
He pointed to Sinclair's interest in buying Far Hills Church on Clyo Road as evidence because it sits immediately next to Wilmington Pike, which serves as the Greene County line. Sinclair may convert the 100,000 square-foot church and the 40 acres it sits on into a new learning center for $6 million to $10 million.
Esrati called for all counties Sinclair has facilities in to be taxed since Montgomery County residents already pay for Sinclair. Sinclair has locations in Preble County, Greene County, Warren County and a Huber Heights location that serves people from Miami, Montgomery and Greene counties.
Levies are not needed in other counties because Sinclair's operations are substantially smaller than in Montgomery County, Johnson said. Although Sinclair has the authority to put a tax levy on the ballot in Warren County, Johnson said county leaders do not think one is needed right now.
"If at some time the leaders of Warren County want to have a levy … and want to have lower tuition and they want to have more programs and a bigger campus and all that stuff we'd be interested in talking to them about that," Johnson said. "But, at this point in time, you know, the very small, modest thing that it is, is what it is."
Source: Sinclair asks voters to renew $28M levy
The reality is, Sinclair is providing programs all over the region. Dayton School Board member John McManus is teaching high school government classes in Clark County, and then of course, there are branch campuses. Yet, Steven Johnson is still thinking other counties might "volunteer" to add a tax levy to support Sinclair Services.
Why should they? Sinclair is fine just taxing Montgomery County to death, and providing services and their brand without